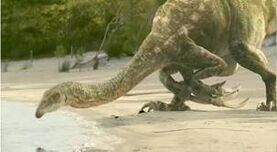 From New Guinea, the Kaiaimunu is a lesser known cryptid. While sightings were numerous by natives to the region, there are (relatively) few sightings by modern man.
Appearance & Description
Edit
The Kaiaimunu is extremely tall with two legs, and arms with giant claws. This description is very similar to the dinosaur Therizinosaurus (see image above).
Theories/Explanations
Edit
Aside from the omnipresent hoax idea, the Kaiaimunu is thought to be a living Therizinosaurus.